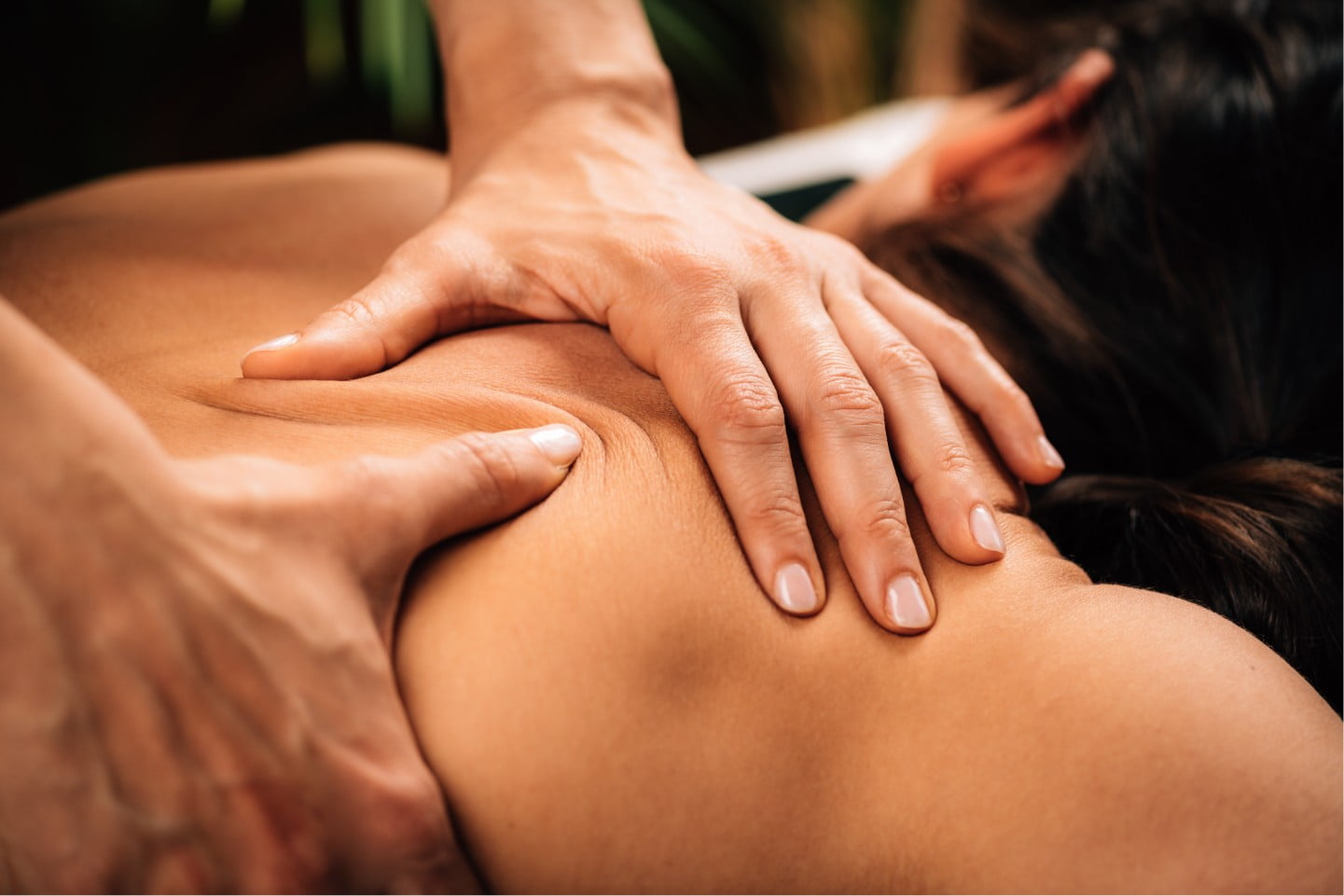 Swedish Massage Therapy in Lexington & Nicholasville
Relax and Unwind with a Swedish Massage in Lexington or Nicholasville
Swedish Massage at Massage Strong in Lexington & Nicholasville
Swedish massage therapy from the specialists at Massage Strong is designed to relieve tension and help you to feel more energized and pain-free. Massage Strong provides top-quality and professional massage therapy that breaks the stigma around massage therapy. For years, people have pinned massage therapy as a luxury service that is only offered by high-end spas and resorts. We believe that massage therapy is an essential form of pain and body maintenance that should be offered at affordable prices and focused on relaxation and relief of pain in areas of tension and discomfort.
That's why our Swedish massage specialists are carefully selected, highly trained, and well-educated in anatomy and physiology to understand how the human body reacts to massage therapy. We're a small, family-owned massage therapy business that is passionate about providing massage therapy specific to each individual's needs. We want our clients to feel confident and comfortable on our massage tables, and leave feeling stronger, more energized, and pain-free.
Swedish massages, also known as classic massages, are one of the most common forms of massage therapy that combines the movement of the joints with massaging strokes on the topmost layers of the muscles to relieve muscle tension. Our therapists use various techniques, including effleurage and tapotement, during your treatment. To schedule an appointment for a Swedish massage in Lexington or Nicholasville, fill out our contact form below. No matter your age or activity level, our Swedish massage therapy can help to relieve pain in areas of serious muscle tension and allow you to live comfortably again. Our massage centers in Lexington & Nicholasville gives you a therapeutic space to unwind and feel great.
What Our Customers Say
Meggie did a fantastic job and I look forward to coming back to my next appointment.

– Shellie Fuqua

I have had massages with many therapists at Massage Strong and all of them have been incredible!

– Annaka H.

I had an amazing experience here. Staff is helpful and knowledgeable.

– Corinne W.

"Felt good and he was very respectful and nice"

– Ashley F.

"Awesome deep tissue massage and very friendly staff"

– Guy F.

By far one of the best massages I have received. Kara tailored the massage to my specific injury site.

– Jeffery K.

"Because it felt so good! Next time I will do a 90 minute"

Preparing for Your Massage Visit

Preparing for your self-care visit at Massage Strong is simple! You don't need to bring anything special with you, and you only need to show up 5 minutes before your appointment time to fill out a few documents. At the time of your appointment, your Swedish massage therapist will lead you to your room and you'll discuss if there are any areas of discomfort, injuries, or specific muscle tension. It's important for your massage specialist to understand your areas of pain so that they can take extra care and spend more time focusing on the areas of the most tension.

Your massage specialist will then leave while you undress to your comfort level. While it's most common to undress to your underwear, you can leave your clothes on should you feel more comfortable. During the massage, you will be covered in a sheet and given private space to dress and undress.

Our team of Swedish massage specialists in Lexington & Nicholasville understands that many first-timers can feel anxious or nervous about the massage experience. That's why we work extra hard to create an environment that is not only relaxing but also comfortable for each client that walks in. Our specialists are professional, hospitable, and always available to answer any questions you may have.

5 Therapeutic Benefits of Swedish Massage

As one of the most well-known and widely practiced therapeutic massages, the Swedish massage offers great therapeutic benefits to individuals of all ages. These therapeutic benefits are best noticed when you receive a Swedish massage once a week, or twice a month, depending on your level of muscle tension. Some of these benefits include:

Improved Blood Circulation

Pain Management

Muscle Injury Rehabilitation

Improved Flexibility

Lowered Stress Levels

Improved Blood Circulation – The long, stroking motions used in a Swedish massage help to direct the blood flow towards the heart and increase blood flow. This increase in blood flow helps your muscles to receive more oxygen and nutrients which helps to relieve muscle tension and pain. It also helps to remove toxins from your body which helps you to feel healthier as well.
​Pain Management – Massage therapy is considered to be a natural way of relieving pain, especially for individuals with medical conditions such as osteoarthritis and sciatica. The Swedish massage therapist can target specific areas of muscle tension and pain in your body to improve blood circulation and reduce tension, all helping to relieve pain.
Muscle Injury Rehabilitation – Individuals who have experienced muscle injuries can benefit from Swedish massage therapy to help restore the muscles that have been torn or bruised. Unlike deep tissue massage therapy, Swedish massage therapy is more gentle on the muscles and works to slowly work out the muscle kinks in a pain-free way.
Improved Flexibility – Receiving consistent Swedish massage therapy is a great way to improve your flexibility and range of motion! By relaxing the muscles, they are better able to extend and adjust, and help prevent injuries while you exercise or play sports.
Lowered Stress Levels – Swedish massage therapy gives you the opportunity to lay down and focus on yourself. Relaxing the muscles is a great way to relax your mind and relieve stress. After a Swedish massage, your muscles and your mind will feel relaxed and ready to perform as you need them to each day.

To learn more about the benefits of Swedish massage therapy, contact the Swedish massage therapists in Lexington & Nicholasville at Massage Strong today!

Swedish Massage vs. Deep Tissue: What's the Difference?

Two of the most common types of massage therapy – Swedish massage and deep tissue massage – are great options for relieving muscle tension. So which one is the best option for you? What does a full body Swedish massage include? Swedish massages are perhaps the most common type of massage that people think of when they think about massage therapy.

This type of massage is used to promote relaxation and relieve areas of muscle tension. This "classic massage" is gentler than a deep tissue massage, as it uses long, soft kneading strokes to work through areas of muscle tension. Individuals who experience pain and tension in the lower back, neck, and shoulders can benefit from the gentle and soothing technique of a Swedish massage. The massage does work through the entire body, but Swedish massage specialists can focus on more specific areas of tension if you let them know beforehand. After a Swedish massage, you'll feel relaxed, your nerve endings will be stimulated, and you'll experience increased blood flow and lymph drainage. Deep tissue massages are similar to Swedish massages but use more pressure to relieve muscle tension. This type of massage therapy is more common for athletes, people with injuries, and people with chronic pain conditions. The deep strokes of the massage aim to reach and stretch the deep tissue and helps to increase blood circulation to the soft tissue and reduce inflammation. Although a deep tissue massage can begin by warming up all areas of the body, it spends more time focusing on specific areas of pain and tension.

To determine which type of massage therapy is best for you, contact the massage specialists at Massage Strong today!

Swedish Massage Pricing

Our pricing is guided by our mission, to provide high quality, affordable massage therapy to Lexington & Nicholasville. One of our clients' experiences expresses our mission perfectly:

"I do not look at deep tissue massage as a luxury item. It is by far the only route I have taken that has given me such significant relief in my low back pain. I get two 90-minute massages per month, and to me that's just what I consider my "pain-free" monthly bill. I will gladly pay my pain-free bill each month in order to function fully and feel completely human again."

60 Minute Swedish Massage:

$90

90 Minute Swedish Massage:

$135

120 Minute Swedish Massage:

$175

Give The Gift of Massage Therapy

Nothing says "I care" quite like a Massage Strong treatment. A great gift for birthdays, anniversaries, Christmas, or "just because," we offer gift cards for all occasions. You've found the perfect gift, so what are you waiting for? Treat your friend, spouse, or loved one to the best massage in Lexington & Nicholasville.