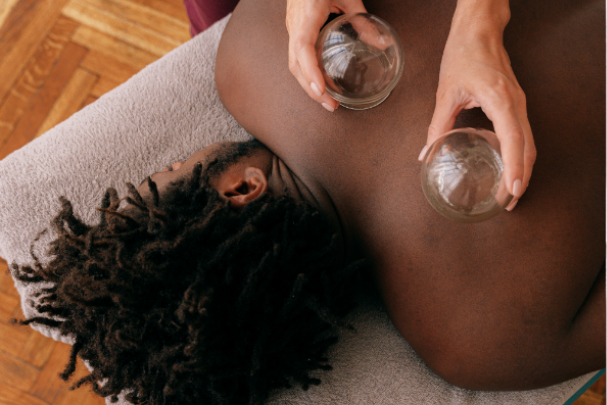 Cupping Therapy in Lexington & Nicholasville
Experience The Benefits of Cupping Therapy in Lexington or Nicholasville
Cupping Therapy at Massage Strong in Lexington & Nicholasville
Cupping therapy is an ancient massage technique that is great for releasing tension and pain in the muscles. Massage Strong offers professional and affordable cupping therapy in Lexington & Nicholasville that helps individuals of all ages feel healthy and pain-free. Unlike normal massage therapy, cupping uses negative pressure to relax the muscles. Normal massage therapy applies pressure directly to the muscles while cupping therapy draws the muscles and tissue upward using small suction cups on the skin for 5-20 minutes. The benefits of cupping therapy are incredible and range from muscle relaxation to lymphatic drainage.
Massage Strong wants to break the stigma around massage therapy that describes it as an expensive luxury. Massage therapy is a form of mind and body maintenance that can help to relieve areas of constant tension and pain without needing to take medicine. The massage specialists at Massage Strong are carefully selected, highly trained, and well-educated in anatomy and physiology to understand how the human body reacts to massage therapy. We're a small, family-owned massage therapy business that is passionate about providing massage therapy specific to each individual's needs. We want our clients to feel confident and comfortable on our massage tables, and leave feeling stronger, more energized, and pain-free.
To learn more about cupping therapy at Massage Strong in Lexington & Nicholasville, contact us! To make an appointment, click below!
What Our Customers Say
I had an amazing experience here. Staff is helpful and knowledgeable.

– Corinne W.

By far one of the best massages I have received. Kara tailored the massage to my specific injury site.

– Jeffery K.

I have had massages with many therapists at Massage Strong and all of them have been incredible!

– Annaka H.

"Felt good and he was very respectful and nice"

– Ashley F.

"Awesome deep tissue massage and very friendly staff"

– Guy F.

"Because it felt so good! Next time I will do a 90 minute"

Meggie did a fantastic job and I look forward to coming back to my next appointment.

– Shellie Fuqua

Is Cupping Therapy Right For Me?

Cupping therapy is a safe massage therapy option for everyone. The most common side effects of cupping therapy are simply the red marks, or circular discolorations, that goes away after a couple of days. If you have specific medical issues such as anemia or hemophilia, you may need to talk with your doctor before considering cupping therapy to make sure that you won't experience other side effects.

Benefits of Cupping Therapy

Cupping therapy is an ancient technique that has been used for a long time to provide a number of great benefits to individuals. Famous athletes, such as Michael Phelps, use cupping therapy to help their muscle recovery, but cupping therapy is also great for individuals who aren't athletes as well. Here are just a few benefits of cupping therapy:

Softens tight muscles

Opens lymphatic pathways

Cellulite reduction

Reduces inflammation

Brings hydration and blood flow to body tissue

Cupping therapy in Lexington & Nicholasville from Massage Strong provides a number of great benefits to help individuals live healthier and pain-free lives. If you're looking for a way to loosen muscles, enhances blood flow, or relieve localized, specific pain, consider cupping therapy from the specialist at Massage Strong.

What to Expect After Cupping Therapy

After receiving cupping therapy, it's important to take care of your body in order to enjoy the health benefits of the cupping technique. Follow these cupping after-care steps after each of your cupping therapy treatments:

Hydrate well! Drink lots of water to help flush the toxins out of your body.
Don't shower immediately after the treatment.
Keep the cupping areas warm and covered.
Don't drink alcohol in order to help the toxins flush out of your system.
Make sure you rest and listen to your body. It's normal to have flu-like symptoms the next day, as this is a sign of your body flushing out the toxins that were released from the cupping session. Rest and eat healthy to help your body recover.

Cupping Therapy Pricing

Our pricing is guided by our mission, to provide high quality, affordable massage therapy to Lexington & Nicholasville. One of our clients' experiences expresses our mission perfectly:

"I do not look at deep tissue massage as a luxury item. It is by far the only route I have taken that has given me such significant relief in my low back pain. I get two 90-minute massages per month, and to me that's just what I consider my "pain-free" monthly bill. I will gladly pay my pain-free bill each month in order to function fully and feel completely human again."

See our full pricing list of all massage services.

60 Minute Cupping Therapy:

$105

90 Minute Cupping Therapy:

$150

120 Minute Cupping Therapy:

$195

Give The Gift of Massage Therapy

Nothing says "I care" quite like a Massage Strong treatment. A great gift for birthdays, anniversaries, Christmas, or "just because," we offer gift cards for all occasions. You've found the perfect gift, so what are you waiting for? Treat your friend, spouse, or loved one to the best massage in Lexington & Nicholasville.