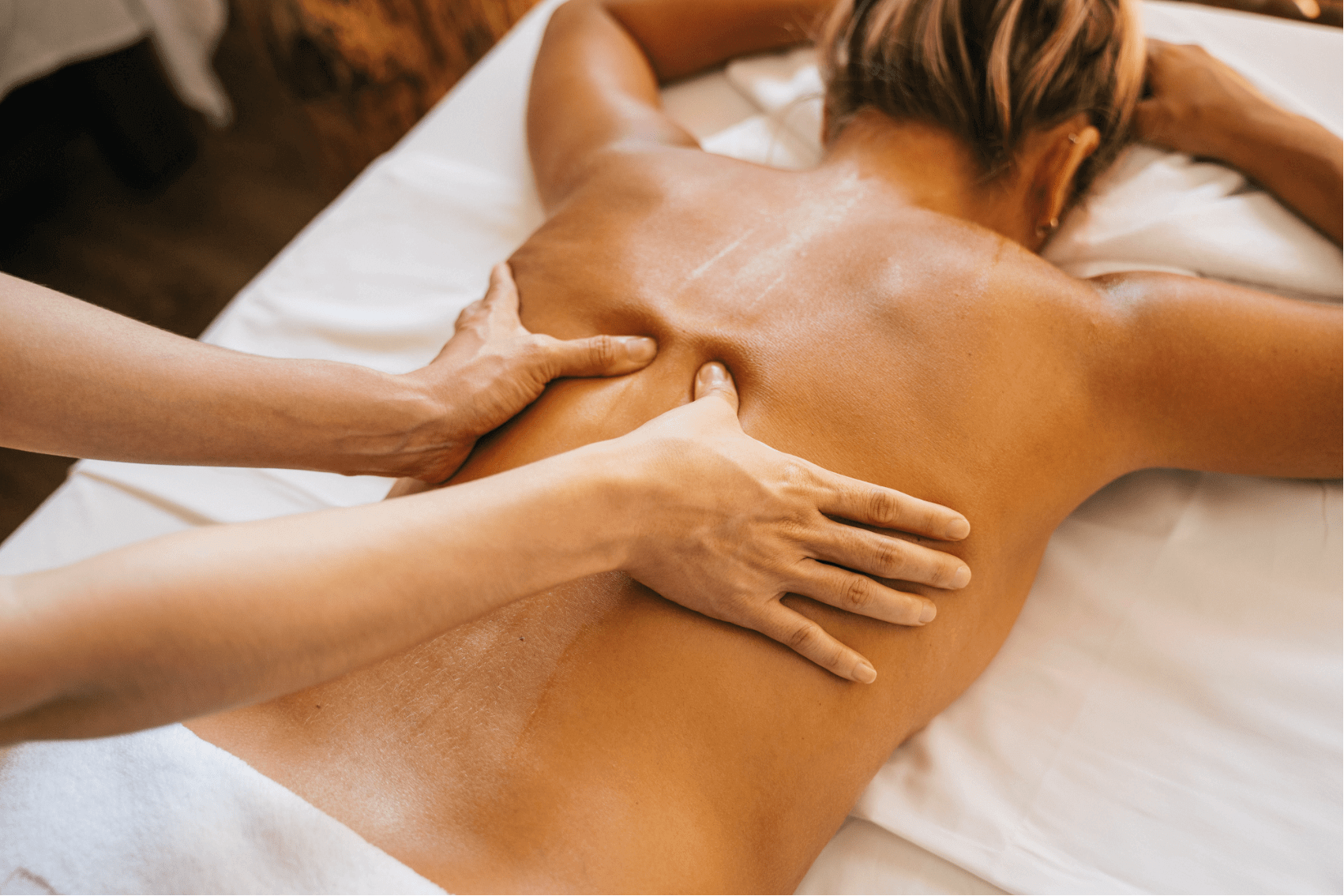 Massage Therapy in Lexington & Nicholasville
Lexington's Top Choice
For Deep Tissue Massage Therapy
Call, Text, or Request an Appointment
Why Massage Strong?
Massage Strong is different from other massage offices. Our massage therapists focus on pain relief, injury therapy, mobility, and other benefits of massage. We aren't a relaxation spa, which is why you won't see any waterfalls in our lobby, and you may not hear music during your session. We aren't here to put you to sleep; we are here to work with your body in a way to promote pain relief, healing, and functional progress. Explore our massage therapy services below. Find a massage therapist in Lexington or Nicholasville at Massage Strong.
Benefits of a Deep Tissue Massage
The benefits of deep tissue massages extend to both psychological and physical effects that can help you to feel more relaxed and with a greater range of mobility. The slow and deep massage technique of a deep tissue massage focuses on relieving muscle pain and improving areas of stiffness, while the time spent relaxing your muscles can help you to unwind mentally as well. Benefits of massage therapy include back pain relief, neck pain relief, shoulder pain relief, and pain management for all other areas of highly used muscles in your body.
Pain Relief
Toxin Release
Nerve Stimulation
Increases Serotonin
Stress Relief
Sleep Wellness
Improves Range of Motion
Better Circulation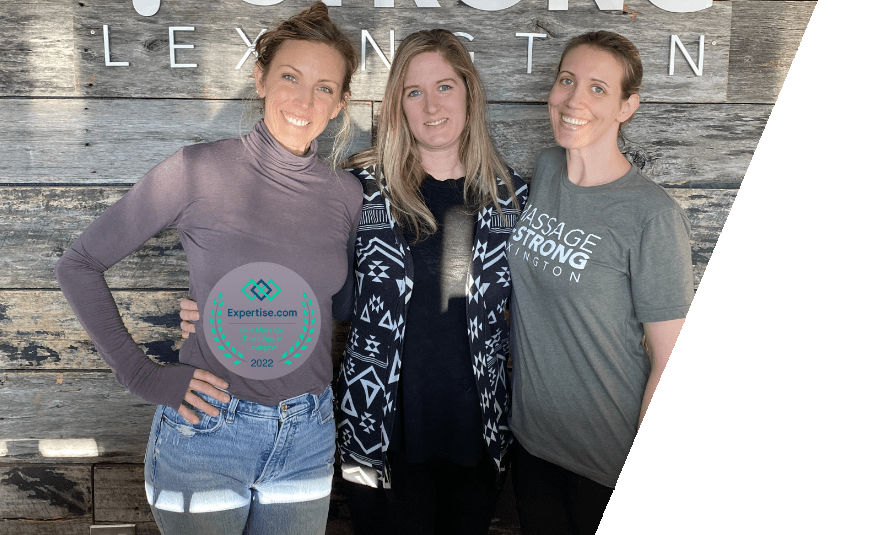 Our Massage Therapists
Massage Strong is proud to have some of the best massage therapists in the country on our team, right here in Lexington & Nicholasville. We take our business very seriously, which is why the process to become a massage therapist with us is a lengthy one. Every single one of our massage therapists has to go through several interviews, several trainings, and must have a deep understanding of the human body in order to work with us.
Each therapist specializes in deep tissue massage therapy as well as many other specialized massage areas. To say we are picky about who we hire would be an understatement, and because of that we have built the strongest, most knowledgeable team in Lexington & Nicholasville.
What Our Customers Say
"Because it felt so good! Next time I will do a 90 minute"

"Awesome deep tissue massage and very friendly staff"

– Guy F.

"Felt good and he was very respectful and nice"

– Ashley F.

I have had massages with many therapists at Massage Strong and all of them have been incredible!

– Annaka H.

Amazing place! The space is clean, my therapeutic massage, from Rosa, was fantastic.

– Caroline Powell

I had an amazing experience here. Staff is helpful and knowledgeable.

– Corinne W.

The therapist listened to my needs and I left feeling much more relieved of pain and much more relaxed!

– Courtney Jones

By far one of the best massages I have received. Kara tailored the massage to my specific injury site.

– Jeffery K.

Meggie did a fantastic job and I look forward to coming back to my next appointment.

– Shellie Fuqua

Give The Gift of Massage Therapy

Nothing says "I care" quite like a Massage Strong treatment. A great gift for birthdays, anniversaries, Christmas, or "just because," we offer gift cards for all occasions. You've found the perfect gift, so what are you waiting for? Treat your friend, spouse, or loved one to the best massage in Lexington & Nicholasville.

Deep Tissue Massage

Lexington & Nicholasville

We are known for our deep tissue massages and are proud to be Lexington's top choice for deep tissue massage therapists. This type of massage is aimed at the deeper tissue structures of the muscle and fascia, also called connective tissue. It is a more focused type of massage, as the massage therapist works to release chronic muscle tension or 'knots.' Deep tissue massage uses many of the same movements and techniques as Swedish massage, but the pressure will generally be more heavy-handed.

Massage for Pain Management

Lexington & Nicholasville

Therapeutic massage by Massage Strong is an effective treatment for certain chronic conditions that involve chronic pain. Discover how massage can improve chronic health issues. There are different types of chronic pain that a person may experience because of different medical conditions. Massage eases the tension of the muscles in the body. The controlled application of pressure on the body relaxes the muscles, ligaments, and tendons. It eases the spasms and contractions of muscle tissue that cause pain.

Massage Therapy for Athletes

Lexington & Nicholasville

Massage Strong provides professional and top-quality massages for athletes in Lexington & Nicholasville that work to relieve pain and soreness in areas of tension and discomfort. Massages for athletes are a specific type of massage focused on enhancing performance and injury recovery in individuals that are regularly engaged in physical activity. This type of massage works the soft tissue in order to correct problems and imbalances that often occur from repetitive and strenuous physical activity.

Athletes of all levels will notice the benefits of regular massages in their enhanced performance, flexibility, and recovery times.

Swedish Massage

Lexington & Nicholasville

Swedish massage therapy is a calmer form of massage that targets long term pains and aches. This type of massage therapy leaves our patients feeling both energized and relaxed even after their very first session. Swedish massage therapy even releases toxins from soft tissue; this is accomplished by our specially trained massage therapists rubbing the muscles with long gliding strokes in the direction of blood returning to the heart.

Cupping Massage

Lexington & Nicholasville

Cupping massage was made famous by Michael Phelps' circular markings at the 2016 Summer Olympics and has been a popular form of massage therapy ever since. Cupping massage produces fantastic results for those suffering from old injuries or stubborn aches. This type of massage is an ancient form of alternative medicine in which a massage therapist puts special cups on your skin for a few minutes to create suction; this promotes blood flow and muscle relaxation.

Prenatal Massage

Lexington & Nicholasville

Massage therapy alleviates tension and anxiety from mind and body as a holistic exercise. Pregnancy can cause additional stress outside of what we normally experience in our day-to-day lives. Prenatal massages can help reduce that stress with one-hour sessions at least once a week. Massage therapy can help release dopamine and improve serotonin levels, both of which help to decrease symptoms of depression that are experienced during pregnancy. Prenatal massage uses nerve and muscle stimulation to elevate these hormones.